Founded in 2019, LeeCARES (Lee County Amateur Radio Emergency Service) and Williamson County ARES held a joint demonstration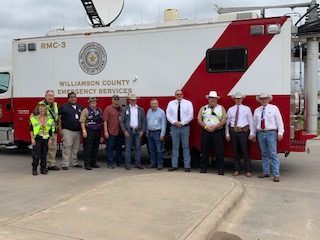 communication abilities in Lee County, Texas, March 8-9, 2019.  Many of the counties officials came by to see the demonstration and ask questions.
LeeCARES held its first official meeting March 2019.
Currently, regularly scheduled monthly meetings will be held on the 3rd Sunday of each month at 1:00 p.m. at Elm Creek Cafe on Highway 21 (3277 W Highway 21, Lincoln, TX 78948)
The meetings are open to any interested member or visitor.
Next Meeting will be March 21 at 1300 at Elm Creek Cafe on HWY 21. Everyone welcome!  See you there!
COVID-19 Lee County Call Center is now open!
The Call Center opened Tuesday February 23 and will be open Monday to Friday, 8:00 AM to 5:00 PM.
Their telephone number is 866-212-1502 and their email address is covid19@co.lee.tx.us.